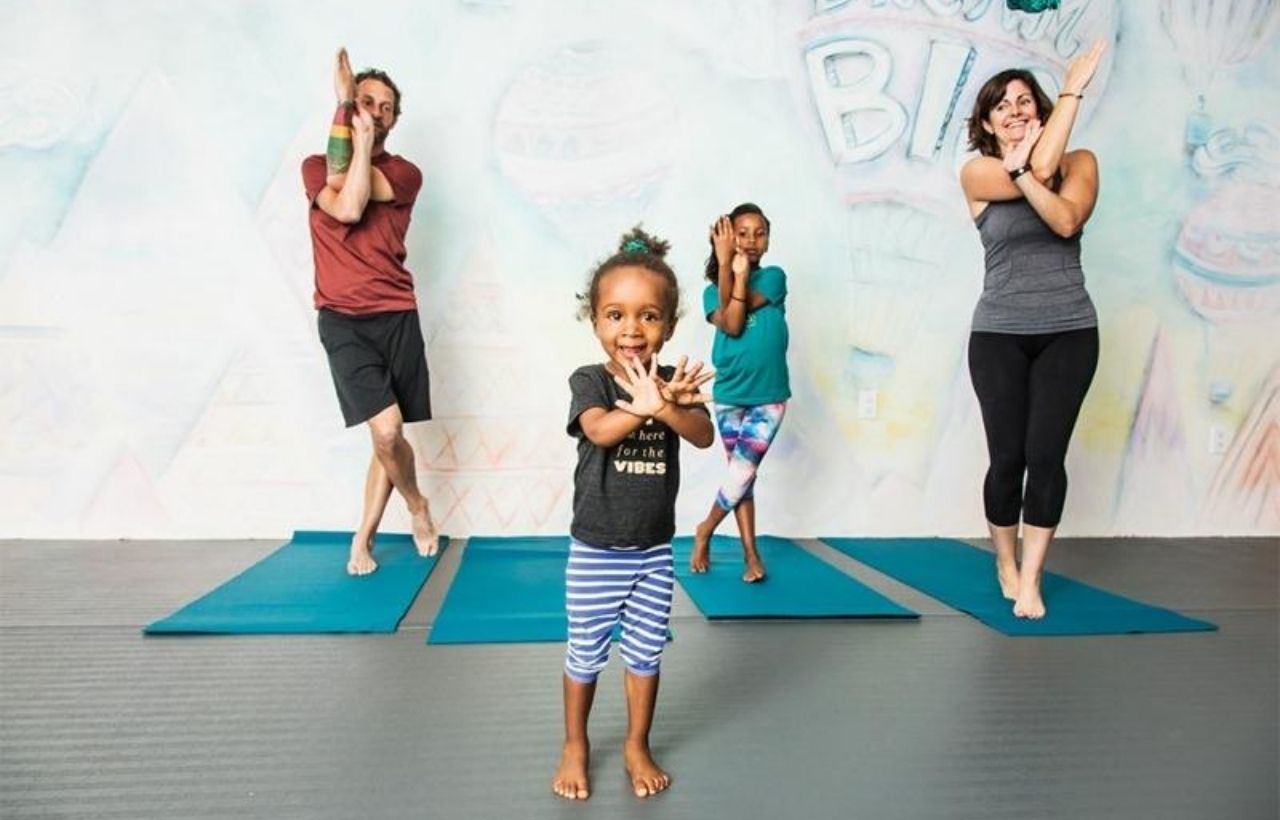 It's your Online Kidding Around Yoga Training. OKAY is an integrated approach to kids yoga teacher training that will prepare you to teach not just asana, but games, activities, deep relaxation, meditation, and so much more. When you are done with this fun and engaging training, you will be fully prepared and certified to teach Kidding Around Yoga classes. Then, you'll have an opportunity to experience all the amazing resources and tools available in KAY Plus. And OKAY is also now AVAILABLE IN SPANISH!
HOW DOES OKAY WORK?
You will follow the online curriculum at your own pace in order to master the amazing KAY program. In no time, you will be teaching your own fabulous children's yoga classes. Included in the program are over 50 original KAY songs with detailed instruction and video on how to incorporate them into your classes. Kids love this music and all of the moving and grooving, jumping and dancing, sun-saluting, and wild fun it brings, all while doing yoga!
There are over 170 videos in the self-paced modules as well as discussions and… you guessed it… OM-work. You will have continued access to our active forum with our helpful mentors and fellow students. At the end of the program, you will either video yourself or Skype with a mentor in order to teach an entire Kidding Around Yoga class in 30 minutes. Read more about our Requirements, Certification and Frequently Asked Questions.
Want to know exactly how our training works? Check out our sample training.
You will have 5-months of access to this course (from the date you sign up) and have the option to upgrade to our exclusive OKAY Plus or Licensee Memberships.
WHO IS OKAY FOR?
Anyone! With a little Yoga experience and a desire to share the love of yoga with kids, you have what it takes to be a Kidding Around Yoga teacher. (Click HERE for our full requirements.) Whether you want to start your own kids yoga empire or just impart the benefits of Yoga to the children in your life, OKAY training will fully prepare you to lead FUN kids Yoga classes with extra activities, songs, and guided meditation/deep relaxation. This training can boost your career and change your life. Want to know how? Check out our testimonials!
WHAT WILL I LEARN?
OKAY covers all things KAY. Anything you would learn at a live training, you will find here.
HERE'S WHAT YOU WILL LEARN DURING YOUR ONLINE TRAINING:
Games and 50+ original KAY songs
Easy class planning using our amazing class outline
Behavior management techniques
Age appropriate activities for 2-17 year olds
80+ asanas appropriate to our songs and games
Yogic philosophy, pranayama, meditation and chanting
Tips for Family, Mommy & Me, Babies, Teens, and Classroom yoga
Partner Yoga
Teaching Yoga in various environments
Physical contraindications of poses
Deep relaxation/guided meditation for kids… The Secret Garden
How to run a successful kids yoga business
Yoga birthday parties and day camps
Watch a few videos of various trainers in the KAY family teach a full class
Stress management for kids
Cookin' with KAY… fun ways to share healthy eating habits
YOU WILL BE A CERTIFIED KAY TEACHER! For a full list of goodies, including CEUs and secret forums, look HERE.
WHAT SHOULD I EXPECT AFTER SIGNING UP?
It's your Yoga birthday! Happy dance! You may begin whenever you are ready the moment you have registered. You will be prompted to join our forum in order to get any help you need from mentors and like-minded students. Upon your graduation, you will have unlimited access to your curriculum for 5 months, so you can start Teaching Your Tush Off while accessing all your resources when you begin your Kids Yoga Teacher journey.
*** At checkout, please provide an email address that you check regularly, as this is the email address we will use for all communication regarding this course ***