Let us help spark your creativity with curriculum planning ideas so that you can best serve your students and their well-being.
Investing time in this course will help you to...


Gather ideas for incorporating yogic concepts into subject areas such as:
Math
English Language Arts
Science
Social Studies
Learn practices that are appropriate for:
Pre-Kindergarten | Lower Elementary
Upper Elementary
Middle School | High School
Experience a sprinkling of the suggested activities so you can feel confident presenting them to your students.
Why weave mindfulness and yoga into academics?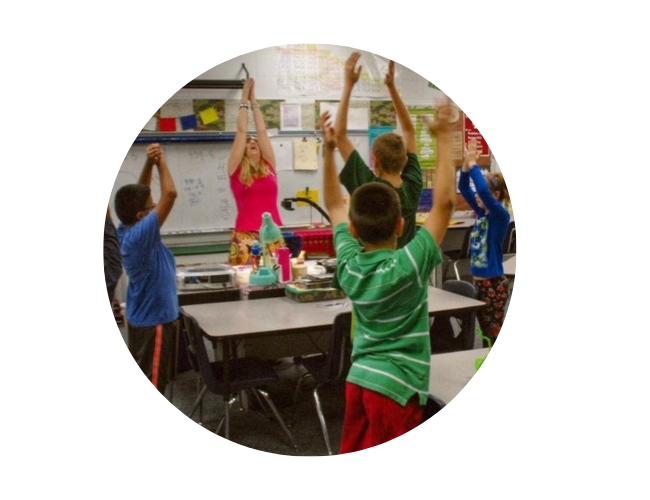 Yoga in schools works wonders!
It has become widely recognized for all of the health and well-being benefits it can provide for our students.
Children today live in a very fast paced world. Between pressures from school, extracurricular activities, their peers, parents, and society, the hustle and bustle of everyday life can quickly wear down a child's inner peace and joy.
All of these pressures and expectations can lead to a whole lot of stress, and while most kids are not familiar with the concept of stress, they can still experience what it feels like without giving it a label or name.
We, as educators, can learn various ways to incorporate all the limbs of a true yoga practice into most areas of the day to create a more optimal environment for learning.
Example Curriculum
Available in days

days after you enroll

Bringing Mindfulness into the Classroom
Welcome To The KAY Family!
Kidding Around Yoga specializes in blended trainings for almost anyone who works with or has children. What sets KAY apart from similar companies is our unique approach to teaching Kids Yoga and a series of original music written and performed by the founder Haris Lender. Our incredible graduates are integrated into the tight knit KAY family through an invitation only teacher's forum and receive access to MANY more resources via the back pages of our website. Nothing gives us more joy than to watch our trainees sharing the gift of yoga with their kids.
You will receive an email from KAY confirming that you were enrolled into the VMW course in Teachable, our online learning platform. *If you do not receive this email, check your Spam folder before you contact [email protected] for assistance.
If you are new to Teachable, you will receive a second email from KAY asking you to confirm your account (where your coursework will be housed). *If you do not receive this email, check your Spam folder before you contact [email protected] for assistance.